Startup Freak
Hey hey hey!
Version 0.7.0 is here! It's not a big change as far as game features go, but between all the improvements in the last version and the Steam release coming up, I thought upping the number is a good idea. This is going to be the final build before the Early Access release on Steam unless any huge last minute bugs come up.
Improvements:
After several reports of the game being unreasonably difficult, especially with the churn variable being quite erratic, several changes have been made:

Churn for the easy mode (Photo sharing product) has been reduced overall.
Churn due to bugs has been reduced and is now dependent on the difficulty level.
Churn due to overloaded servers has been reduced and is now dependent on the difficulty level.
Churn on all random events that cause it, including security attacks, has been reduced.
Added a credits screen. Honestly this wasn't about me blowing my own horn (OK maybe a little), but more to give attribution to the awesome artists who helped me make this game a reality.
New languages are now automatically picked up by the UI if the appropriate .CSV file is present in the Assets\Resources\GameData\Strings folder. This is to help anyone who wants to help translate the game and perhaps share it with others. A README.txt file is included in the same folder that describes the process. The goal at some point is to include completed translations in the game build itself.
Improved the mini tutorials when creating the first Test and Performance features.
Improved analytics, collecting some more contextual information with events to help with balancing the game in the future.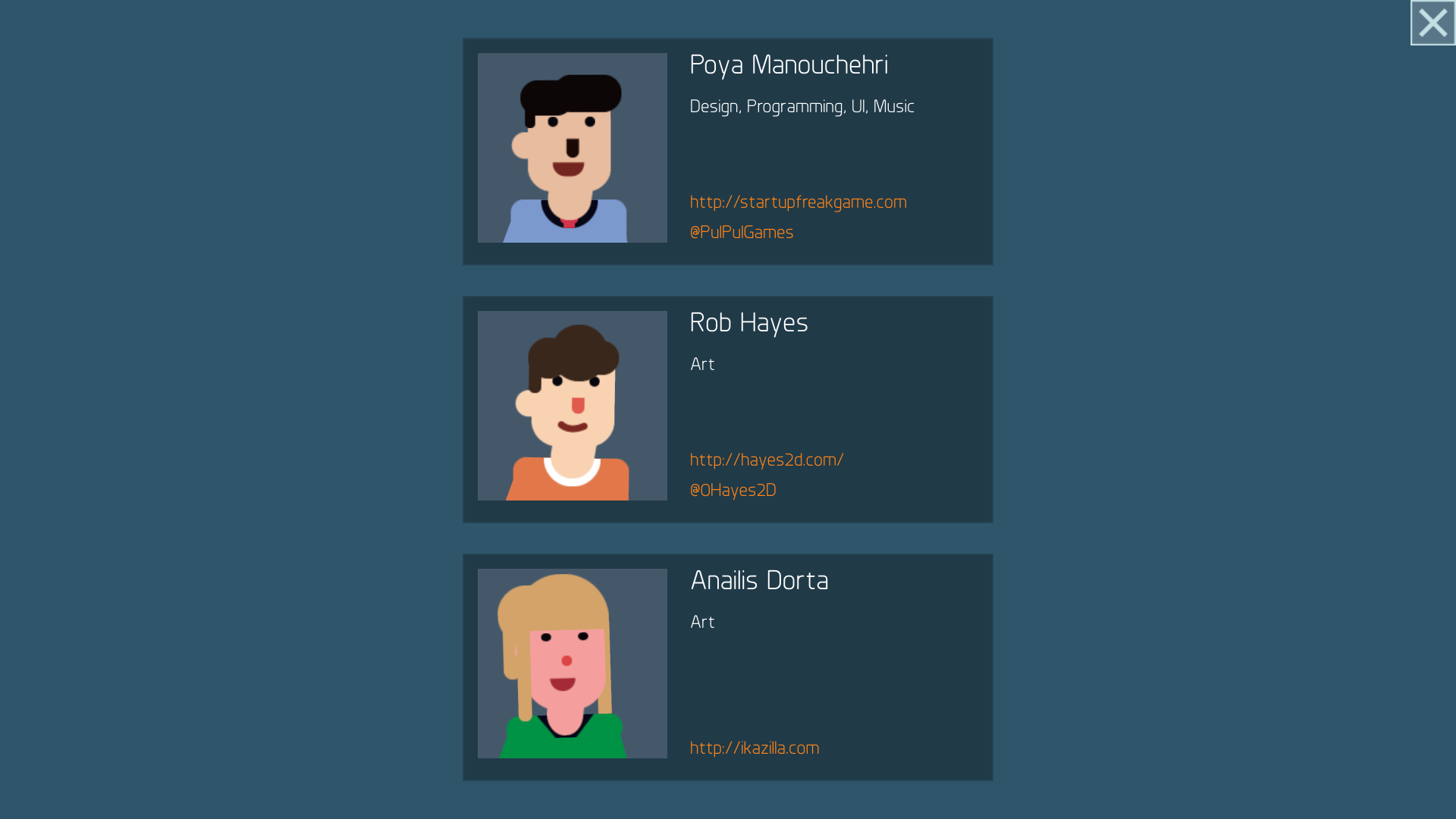 Bug Fixes:
Fixed: Game crashes if at the time of a market report there are no features in the product.
Fixed: Incorrect "level up" reward texts for marketing tasks.
Steam Early Access release is less than 10 days away! I'm excited, nervous, happy, sad, ... wow!

Files
Startup Freak Beta 0.7.0
71 MB
Apr 04, 2018