Startup Freak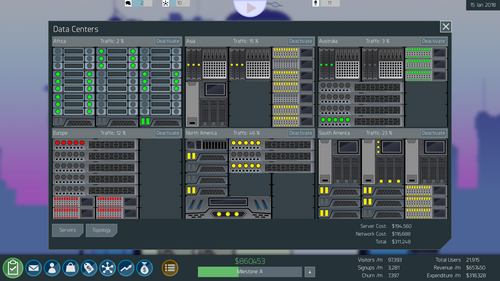 We have finally got Beta 0.3.0 ready for you. The focus with this release has been some content and art.
New Features:
Added 23 new office furniture/items including new employee desks and computers.
All server placeholders have been replaced with shiny new art assets!
Market report now has hints for pricing.
Improved the presentation of the investor mini game. Note that the art is still placeholder, and will be replaced in the next release.
Added new investor profiles.
Added investment mini game tutorial.
Office items can now be moved after being placed.
Bug Fixes:
Fixed a crashing bug on some computers during loading of game settings.
Fixed incorrect collision detection when placing some office items.
The level can now be scrolled left and right when placing office items.
The player can no longer place a investment counter offer which is worse than what was offered by the investor.
The player can no longer rent an office that has less capacity than the current employee count (resulting in errors).
Files
Startup Freak Beta 0.3.0
44 MB
Nov 12, 2017