Startup Freak
Is Beta 0.6.0 late? You betcha! Is it lacking in new content and features? absolutely not! Check out the list below or better still, get yourself a copy and try it out: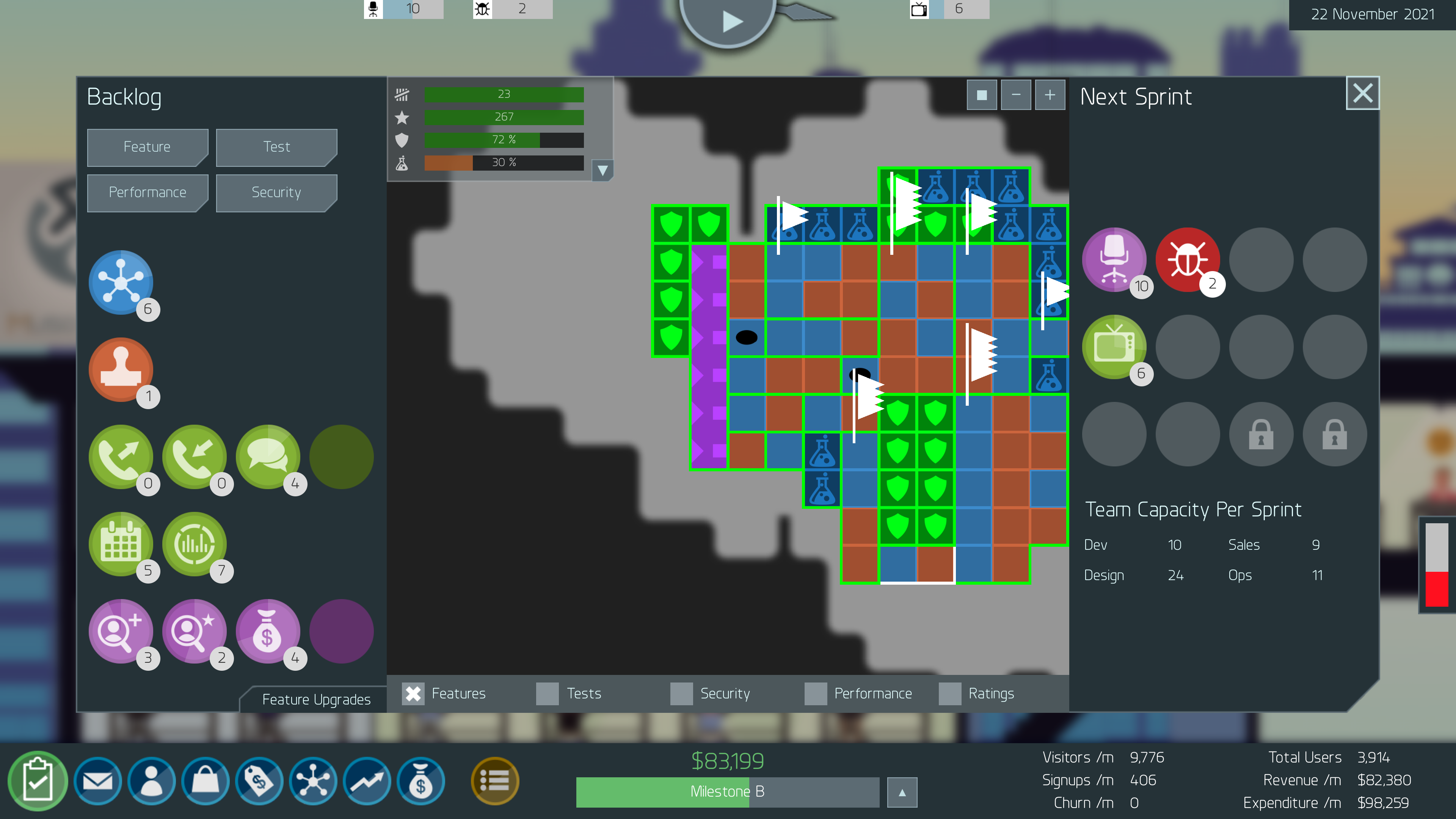 Features and Improvements
Added two new markets, representing easy and hard difficulties. (Note: these still need to be balanced, so expect some rough edges).
Added 3 music tracks.
Added 12 Steam achievements (will become with available on Steam release).
Added support for localisation to the game (only English is currently available but the plan is to release other languages throughout Early Access).
Improved the game load performance.
Added summarised product metrics as a HUD to the backlog product view.
The player is now prompted to place their credited furniture after moving.
The player is now prompted to confirm when cancelling or deprecating features.
The candidate HUD UI now shows the maximum skill available for each skill type.
Server width information, as well as height, is now shown in the server selection UI.
When building tests, now the tech components are highlighted so it's more clear where to build tests.
A more intuitive tooltip UI is added for tasks and feature upgrades, which replaces the click-and-hold input.
Added sprint notifications for feature upgrades.
Changed the Milestone C checkpoint text to be more accurate.
Added discord and twitter links on the title menu screens.
Updated the icons for offices.
The server selection / topology menus are now auto-collapsed when the data centre UI is opened.
Improved highlighting of several buttons when they first become available, including milestone checklist, upgrades, and sprint run.
The question mark in the investment mini game now glows on and off.
Added visual and audio feedback when placing down the market research radar.
Update the graphics for sliders.
Investor profile no longer displays their affinity directly. Player has to guess based on the portfolio alone.
Improved tutorial texts for product metrics.
Bug Fixes
Fixed: Moving truck freezes if the investment UI is opened before the truck has left the scene.
Fixed: Notification bubbles on menu buttons freeze in position when the investment UI is opened.
Fixed: Context menu click registers through backlog side panels.
Fixed: Invisible requested features are click-able (when sprint is full an error is shown).
Fixed: Investor bonus string is not formatted correctly.
Fixed: Marketing area doesn't unlock if the game is saved just after leveling up the first marketing task and then loading it again.
Fixed: Corrected tutorial text in investment mini-game.
Fixed: Sometimes both Inbox and Junk mailboxes are selected.
Have fun!
Files
Startup Freak Beta 0.6.0
71 MB
Feb 15, 2018